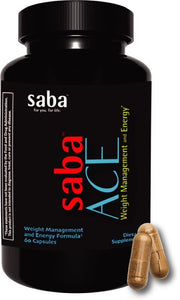 SABA ACE Bottle - 60 capsules to a bottle - EXP 2/2023.   These are past the date!  Please keep that in mind when ordering. 
Condition is New. Shipped with USPS First Class Package.
—-> This is the newer ACE released in February of 2019!!! This is not the very first Ace released nor is it the second with the "new" on the bottle. This is the newest formula. Saba reformulated! Please note this when buying!!!
-----------
IT'S BACK!!!   The ACE you loved has returned.   
Now made with Dynamine and a patented formula that is like a "sister" to the Original ACE formula back from 7-8 years ago, before FDA swooped in and took it away! 😡🤬🤯😠
We searched high and low and in this case, waiting has paid off because this stuff is the 💣💣💣💣💣💣💣💣💣💣💣💣💣💣💣
Appetite Control💯
Energy💯
Focus💯
Nootropics💯
Improves Mood💯
And so much more.................
Get with me and start living the BEST version of you EVER!!❤️